If you love being in, on, or around water, then you'll want to check out these water-inspired hotels. From high adrenaline aqua adventure parks to relaxing pools, here are some of the best water-inspired hotels.
Atlantis, The Palm, Dubai
Ever wanted to ride a giant water slide that passes through a shark-filled lagoon? Well at Atlantis you can. This luxury hotel, boasts 1,500 nautically themed rooms and a 42 acre water park.
Jules' Undersea Lodge, Florida, US
It's not 20,000 leagues under the sea, but you do have to dive the 21 feet to get to this awesome underwater lodge. Sitting at the bottom of the Emerald Lagoon, it's the oldest under water hotel in the world.
Orlando World Center Marriott, Florida, US
The Orlando World Center Marriott is the largest of the Marriott chain and one of the most unique. Guests can enjoy two 200 foot winding waterslides and one 90 foot speed slide, among other attractions.
Great Wolf Lodge, Niagara Falls, US
Eight water slides, stunning whirlpool spas, even an indoor wave pool! Great Wolf Lodge is the ideal spot for the whole family to enjoy water side fun.
Hotel El Ganzo, Mexico
Spend your day floating serenely in a 2,013 square foot infinity pool with a glass-walled hot tub and feel like royalty.
Ramada Resort Aquaworld, Budapest
This elaborate indoor water park is home to 11 crazy water slides that wind their way inside a 240 foot wide glass dome.
Capo La Gala, Italy
Capo La Gala overlooks the Bay of Naples and promises an experience. Inside, the beautifully decorated rooms are nautically-themed, with red and blue tiled floors and model yachts.
The Maritime Hotel, New York, US
The 120 guest rooms look like cruise ship cabins in this chic New York City hotel, while the outside of the building is covered in portholes. Fun!
Four Seasons Resort Maui, Hawaii
This 4,100 square foot infinity pool overlooking an expanse of ocean is definitely Tweet worthy.
Silver Rapids, Idaho, US
Idaho's largest indoor water park is also a resort, so you can literally stay all day! Lazy rivers, a surfing simulator, and hot springs await you.
Hilton Hawaiian Village, Hawaii
This resort right on the Waikiki beach is home to a mosaic-tiled infinity pool that will take your breath away. Don't forget the Duke Kahanamoku saltwater lagoon and waterfalls too!
Hotel Caruso, Italy
Four centuries of visitors have enjoyed the beauty of Hotel Caruso, on the stunning Amalfi Coast. A heated infinity pool at the highest point is one of the hotel's best features.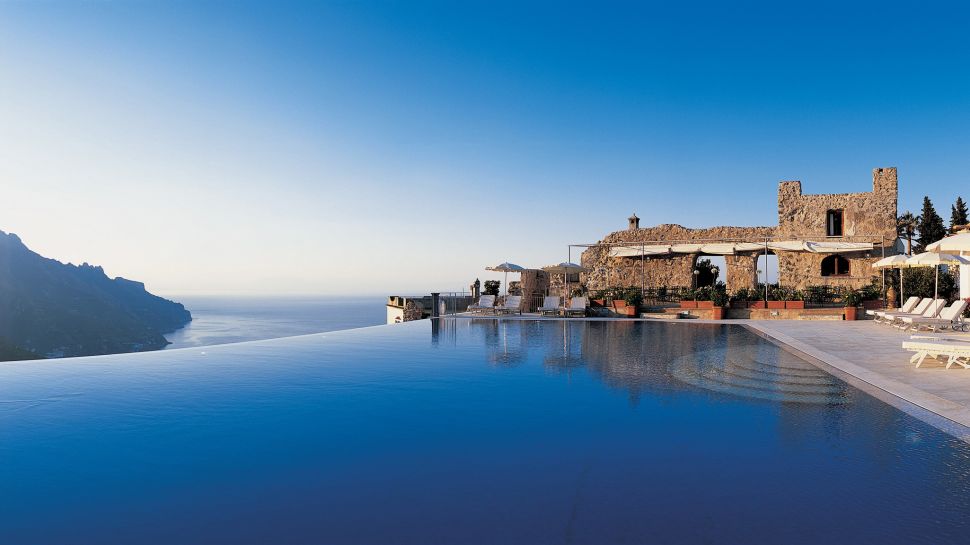 Regent Palms Hotel, Grace Bay, Turks & Caicos Islands
The immaculate white sands of Grace Bay beach delight guests at the Regent Palms. There's also a waterfall, swim-up bar, and hot tub island to occupy long summer days.
One & Only Reethi Rah, Maldives
The hotel features a relaxing infinity pool that extends nearly 100 feet out into the middle of a blue lagoon. Chill out…
Hard Rock Bali, Indonesia
You wouldn't expect anything less than rock star treatment here. Water slides, an outdoor stage for entertainment, and the largest free form swimming pool in Bali are all included.